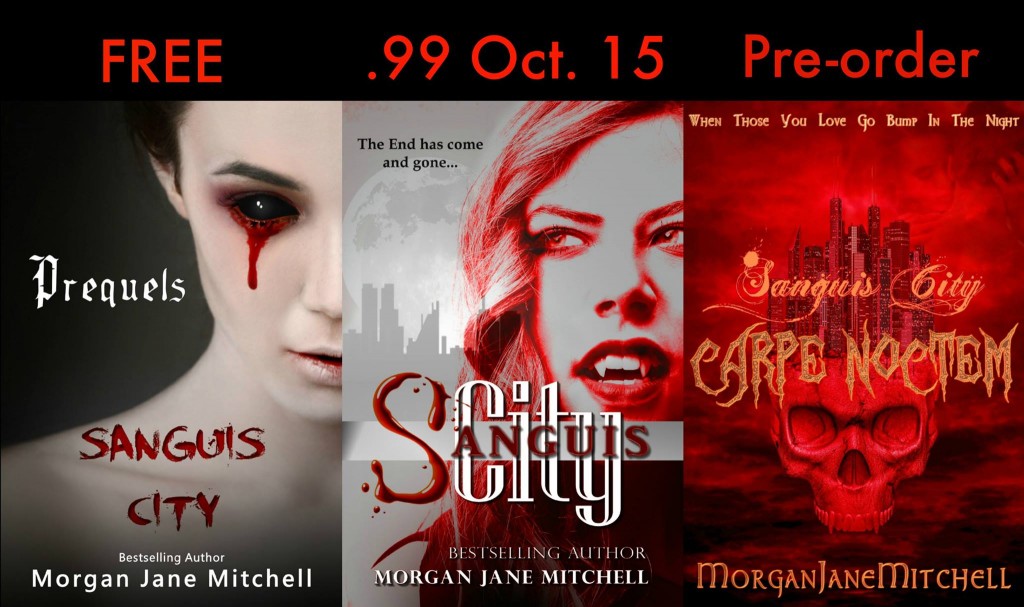 The End was not a Zombie apocalypse but a Vampire one.
Ever wonder what happens after the world ends? Lilanoir Rue did, a mere by product of the destruction, she never knew what happened before hand either. No longer just a human with fangs, she is banished from the only place she called home, the Human Reservation. She wipes her tears and never looks back. In a world gone dead, life has never been so good, for some. While others live in chaos, the chosen call Sanguis City home. The rich and powerful found a way to survive The End and enjoy every minute of it, for eternity. On the brink of a gruesome death from starvation, disease or a hungry zombie, humans flock there to sell their blood for peace and security. The city of blood, made for and by vampires, welcomes Noir; her kind are in high demand. New vampires, the ones who bought immortality, need a loyal workforce. Neither Human nor Vampire, Bleeders take care of the city in the daylight. Draining humans by day and dating Vampires at night leaves Noir little time to think about her past, or much else, until it finds her. Noir never dreamed her fangs would be the ticket to the good life, but three years in the city has earned her a promising future, career and, just maybe, a love life. But when she falls for her charmingly sexy Professor, an Authentic Vampire, she also falls into a web of nightmares. Does she really know anything about the real Vampires or about the city she now calls home? Unable to escape painful memories, she uncovers more than her own secrets. Quickly her dystopian paradise starts crashing down around her, and some secrets just won't stay dead, and others are bound to kill her before finals week. Ending up in bed with a monster, in more ways than one, might not be as bad as she had imagined.
The first full length novel in the paranormal romance series with an urban fantasy edge, Sanguis City and can be read after the prequels or as a stand alone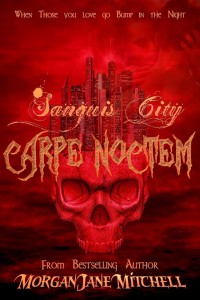 Carpe Noctem is the second full novel in the Sanguis City Series by Bestselling Paranormal Romance author Morgan Jane Mitchell.
**Due to violence, sex and language, this book is recommended for 18+**
It's no fun being an unlicensed bleeder in the city of blood, especially one who has to deal with being the better half of a vampire god. Being juiced used to be her biggest fear until she discoveries the alternative. Mandatory service sounds a lot like slavery to Noir. Good thing her sexy captor has a bigger problem, they all do...
Trouble follows Noir as she escapes the vampire culture into The Fringe, where the most rebellious humans dwell. Among them, she just might find the witch to make her one wish come true, if he doesn't find her first.
With the city on lockdown, trying to flush out the designers of the latest zombie virus, talk of a rebellion puts everyone on edge. The bleeders are caught in the middle, enforcing curfews and sanctions to punish all humans. Noir may be busy fighting her own battles with the men >
Is she a pawn in a more sinister plot or is she the key to saving the city? What will happen when Noir decides to seize the night?
Reading order:
Sanguis City Prequels (The Education of Lilanoir Rue, My Name is Noir)
Sanguis City
Carpe Noctem
Deos Mortis