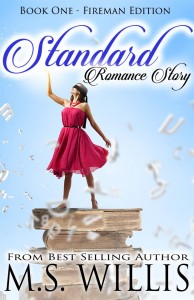 My name is Jane. I'm not a virgin. I'm not a stripper. I've never been raped. I don't have daddy issues. I'm not in college. I don't have magical powers. I'm not naïve. I haven't been abducted. I haven't been sold. I'm not unbelievably gorgeous. I don't sleep around. I can't even tell you the last time I dated. I live a normal life making minimum wage at a bookstore. And my best friend is a guy who also happens to be my roommate. But I'm determined to find love.
This is my standard romance story. Follow Jane as she dates the standard romance guys in an attempt to find true love: The rocker, the biker, the billionaire, the tattooed bad boy, the firefighter, the lawyer, the vampire, the cowboy, the alpha, the teacher, the movie star, the professional athlete, the fighter and the captor. Which one will finally win her heart?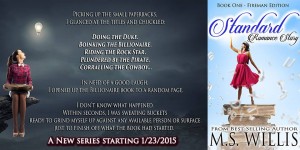 M.S. Willis is a romance novelist whose debut novel, Control, was released in 2013. Although currently writing in the romance genre, Willis has plans to expand her literary pursuits into multiple genres and has no fear conquering difficult subject matters in her writing. Willis is a native Floridian who is also a photographer and musician. When not absorbing herself in written, visual or musical expression, Willis is an adrenaline junkie, a 'closet' video game enthusiast, and an avid outdoors person and nature lover. M.S. Willis also writes as Lily White.

Visit M.S. Willis on her author page:
www.facebook.com/mswillisbooks
Follow on Twitter - @mswillisbooks Mailing List -
http://mswillisbooks.us3.list-manage.com/subscribe?u=e23eb93c7056b1b15c0c35ba4&id=3506e32acb
Amazon Author Pages: MS Willis:
http://amzn.to/1z0Fjqj
Lily White:
http://amzn.to/1pG9LwE